Ibiza - more than meets the eye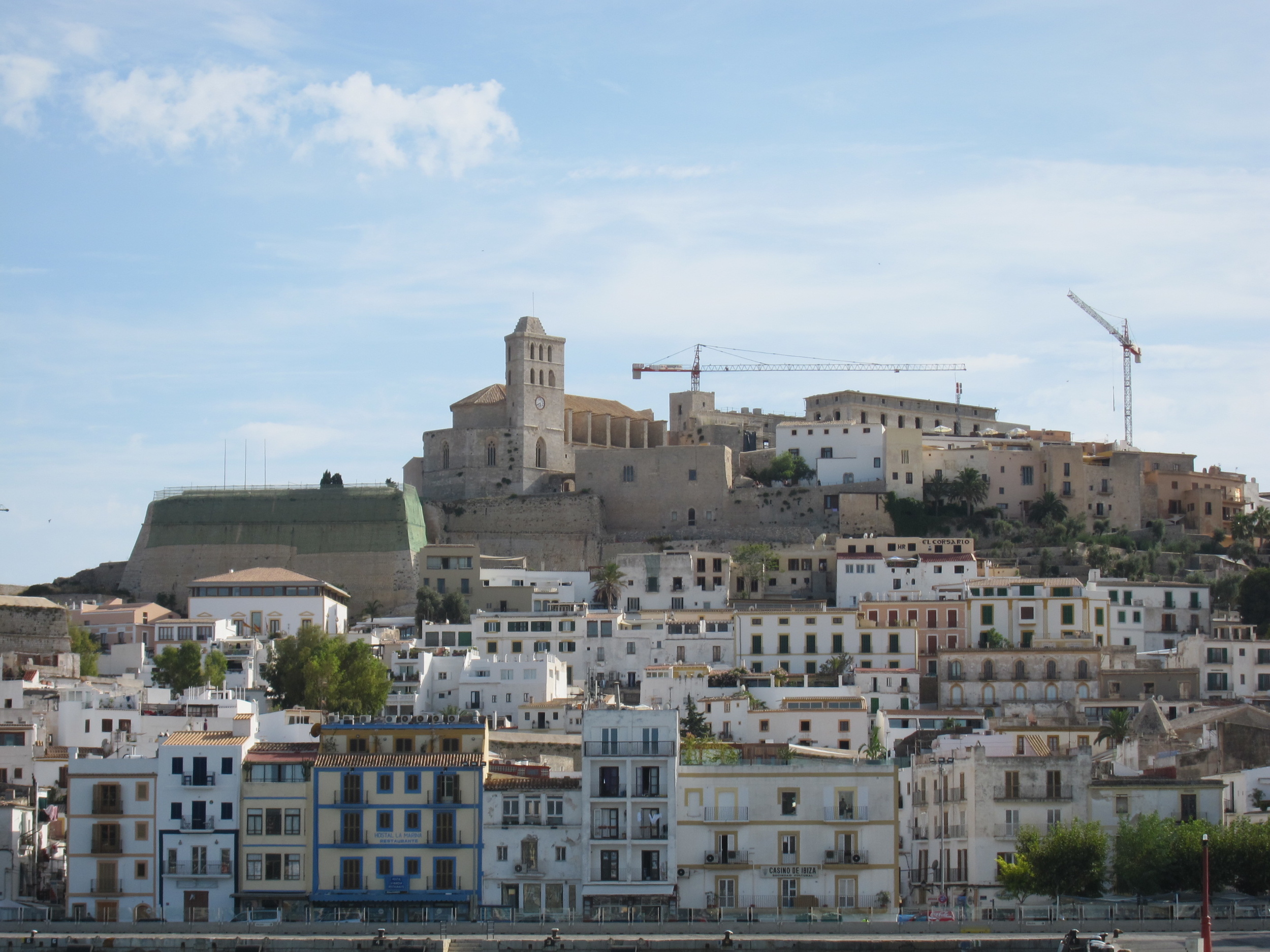 I couldn't decide whether my first impression of this island resembled pattaya or Miami - either one equally soulless, perhaps one cleaner than the other. I was honestly disappointed. Not that I had high hopes of what this place is, but wow. Evissa is the main town consisting of mainly the harbor and tourist trap crap restaurants. The streets are narrow and the stores are all geared towards clubbing lifestyle - you know, t-shirts saying "drugs save my life" ... Things like that. Kim's luggage didn't make it but we scored rides from her friend from Madrid who are joining us only through the weekend. After settling in we strolled around town, ate world's shittiest kebab, and marveled over how serious the Spanish take their siesta (nothing opens in the afternoon so people can go nap because it is too hot - wtf). Then we took a siesta too.

The first stop on the party agenda on day one was Space. Kim's friends sleepy and boo were spinning there. Before that? What else? World's shittiest pizza, of course. I felt so gross I think I'm going to need a 10day juice detox after eating that thing. We got mad hookups at space. They treat VIPs like kings and queens. It was really neat to get to see sound checks, see back stages, get bottled service, and hang out in this really awesome balcony with ridiculous photo ops. Not only were sleepy (mike) and boo (begona) were super nice for hooking us up, they played a really awesome set too. The word rockstars adequately described the night. You can catch them play regularly in NYC at sullivan room. Kim said without the hookups, we'd be paying 20€ a drink and 10€ a water like everyone else. The idea of any liquid costing that much is blasphemy to me. Space has a nice layout and better sound system than anything I've heard in all of NYC. The crowd wear interesting clothes. At varying points, burlesque dancers would come out to mingle. Despite the free flow of grey goose - redbull, I was pretty dead sober and in my best behavior the whole night. Fun to get to dance tho. The crowd was polite - to be expected, really. All druggies are generally not aggressive. Towards the end Kim wanted to stay to see the sun rise. I supposed we tried for an hour. No sun was in sight by 6am and so back to homebase, we went. I made a 6am egg sandwich, showered, then went to bed thinking about how horribly I've been at abusing my body.
11am rolled around sooner than you think when u go to bed at that hour with more redbull than you need in the bloodstream. The crazy 3 Italian neighbors came knocking on the door bearing gifts of their leftover expensive shampoo and sundries. One apologized for making so much noise, and the other I recognized stalked us earlier yesterday. I guess free shampoo makes up for stalking? Sleepy and boo picked us up later in the afternoon. We drove to a tiny family oriented beach town called cala llonga and lounged. I discovered a little hiking path along the cliff. It was nice to lay on the rocks with no one around, soak in silence, mediterranean salty breeze, and just feel alive. A fleeting thought crossed my mind - people consumes, solitude recharges.
I played with the spanktastic new s90 + under water housing specialK lent in the ocean. So dope... It is a tad heavy for beach but should be the right weight for diving later. I have to admit - this little toy is truly shaping up to be the thing that could distract me from my irrational fear of diving. I look forward to Monday already. What a thoughtful gift. SpecialK is so the bomb. Later that evening we drove to the west end of the island and stumbled upon a breathtaking bohemian hippie sunset spot complete with Asian-fusion gourmet food and just the perfect vibe. It was what I imagined the good side of Ibiza to be. I guess it does exist but you have to really drive out to find it. An amazing meal and great company fills the summer night air. We part ways later. I stayed in with my book. They went to Pacha. .. via mobile